Maui is the ultimate destination for getting married. And, fascinatingly, people tend to spend a LOT of money on
a wedding and invest very little on the education and preparation that could ensure not just a beautiful wedding, but a beautiful marriage and harmonious life. We at Heart Path Journeys are committed to helping you to start your life together on the right foot—with the skills, tools and perspective needed to thrive in your relationship! A Relationship Retreat is just the right way!
Eve Hogan, owner of Heart Path Journeys, is also a wedding officiant and the author of "How to Love Your Marriage" and "The EROS Equation: A Soul-ution for Relationships" offering Wedding and Honeymoon Retreats  and Vow Renewal Retreats. Several of our other practitioners also specialize in relationship skills and between us, you will have a team dedicated to the wellness of your relationship.
Whether you are starting your union, rejuvenating your marriage, or simply honoring a job well done, a Vow Renewal, or Wedding Retreat will be all inclusive of the ceremony, a preceding educational retreat and proceeding romantic adventure.
Arrive on Maui, and start with relaxing into a couple's massage!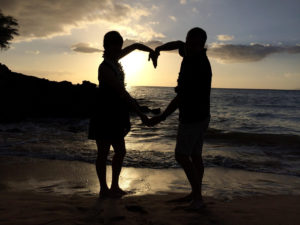 Spend the first two or three days in retreat, deepening your knowledge of each other, your selves and gaining richer relationship skills. Experience a simple, sacred, unforgettable ceremony—either on the beach, in a beautiful garden or on a labyrinth…or another option of your choice! We offer SCUBA weddings, boat ceremonies, hiking ceremonies….this can be completely customized for you! LGBT Weddings are also welcome.
After the ceremony, take your new found or rejuvenated skills and experience all that Maui has to offer. Either led by our practitioners or exploring on your own. We can assist you with SCUBA diving, zip lines, helicopter tours, hikes…. fulfilling your heart's desires.
(808)243-7284 • info@SacredMauiRetreats.com
470 Kaluanui Road, Makawao, Maui, Hawaii 96768
Please keep the time difference in mind if calling. Hawaii is 2-3 hours earlier than the west coast of the US and 5-6 hours earlier than the east coast.