One Day to Clarity
Life is full of transitions and changes….i
Whether you seek greater clarity about career options, next steps after divorce, relationship decisions, regrouping after a pitfall or a successful completion, we can provide new perspectives, tools and emotional freedom for taking your next steps with confidence.
9:00-11:00 Clarity Coaching Retreats are often sought at times of transition while seeking clarity, this session assists in making decisions and mapping out the next steps of your spiritual journey so that you leave equipped with a practice you can implement daily. Through guided imagery and life coaching, you will be guided through a deep process of self-discovery and offered additional tools for self-healing and decision making. You will depart your session with a deeper sense of clarity and the ability to apply that clarity to any circumstances that come up.
11:00-12:30 Living Your Best Life — A holistic approach to life keeps us balanced and whole. This session focuses on the health of the Spiritual, Emotional, and Physical body. You will explore your daily habits of mind and health in order to access areas for improvement. You will begin to see new ways to nourish yourself. We become what we practice, what we eat and what we think. Learning tools can help us to live our healthiest, happiest, most energetic life.
12:30-1:30 Lunch and time to journal. Opportunity to Tour the Farm, learn and grow!
1:30-3:00 Six Essential Life Skills
 — Powerful skills that should be a part of everyone's personal practice for accessing wisdom, making decisions and aligning our behavior with our goals. Whether applied to relationships, work or simply one's personal well-being, mastering these essential skills allow you to master yourself.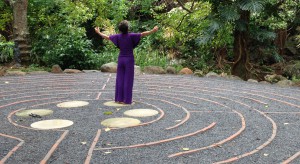 3:30-5:00 Deep into the Labyrinth — While many understand the labyrinth as a walking mediation, the labyrinth is actually a rich field of metaphor for deeply understanding ourselves. The way of the winding path offers a mirror into which we can see ourselves and a blue-print for understanding the human spirit. Through a mix of information, a deepening perspective, the labyrinth walk and journaling processes, this promises to be a powerful experience. This retreat prices at $995 plus tax. A light lunch is included.
This retreat prices at $995 plus tax and includes a light lunch. This is a one on one retreat. $400 per additional guest.