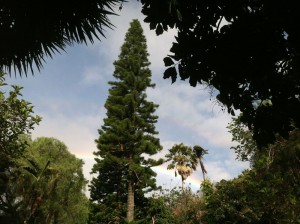 Whenever possible, we aim to have you stay on site at the Sacred Garden Retreat so that you are most conveniently located for your sessions. however, there are numerous hotels, condos and several small Bed and Breakfasts on Maui.  When you come, you can either stay in accommodations of your own choosing and arranging, or allow us to assist you.
The accommodations we book you in are all self-contained private studios, cottages, condos or houses fully out-fitted with kitchens/kitchenettes, linens or, if you prefer the more "hotel-style" or Bed and Breakfast-style (a room in someone's house), we can assist you with that as well.
While you can certainly arrange your own accommodations if you prefer, the benefit of having us do it for you is that you can rest assured that the vacation rental will be safe, cute and clean.
Let us know about your specific needs, number of people, timeline, and we'll send you pictures of available nearby accommodations.
The prices range from $145 a night to $225 for studios and cottages, and $475-675 a night for full houses (sleeping from 2-10+). All units have an additional 14.41% Transient Accommodations Tax and a cleaning fee ranging from $95-475 depending on the unit).
The Sacred Garden Retreat accommodations in Makawao (Permit Number STMP 2015/0001 SUP2 2013/0013) are just 15-20 minutes away from Costco, the airport, "Town" etc., and 2-10 minutes away from a variety of excellent restaurants and shopping in the Makawao, Haiku, Paia area. While these are in lush tropical settings, beautiful beaches are just minutes away.
•••
Adorable "Gingerbread House" ($175-225 depending on the season)
This cozy studio cottage can sleep 2. It is a 1930's cottage recently renovated with new siding, flooring, paint, tiling, furniture, appliances and Wifi.  Wireless internet is also available on the property adjacent in The Sacred Garden.
•••
Unique and Charming Log House….cozy for 2 or 10 ($475-675 depending on season and number of people)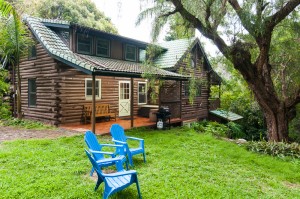 Our group retreats are often housed on a working organic farm in a real log house, as well as near by studios and cottages.
This house is spectacular, 5 bedrooms (one is a studio suite with its own bathroom and private entrance). Spacious, unique, peaceful and charming. It has cable television, a DVD player and wireless internet.
Call  us for availability and let us know your interests and needs and we'll send you details to the accommodations that are the best match for you.

470 Kaluanui Road, Makawao, Maui, Hawaii 96768
Please keep the time difference in mind if calling. Hawaii is 2-3 hours earlier than the west coast of the US and 5-6 hours earlier than the east coast.