Eve Eschner Hogan is an inspirational speaker and author  specializing in creating healthy relationships—in the workplace, the home and the heart. She is the owner of Heart Path Journeys, a labyrinth facilitator, wedding officiant, columnist for Spirituality and Health Magazine and Executive Director of The Sacred Garden on Maui.
Eve shares a rare perspective on human behavior along with simple steps one can initiate immediately to bring about change.
Eve's work bridges the gap between the head and the heart so the two work in alignment instead of opposition. Through a blend of story-telling, sharing wisdom, enhancing common sense and offering skills, tools and practical guidance, Eve entertains, educates and empowers her audiences.
Eve personally will work with you to create your perfect Sacred Maui Retreat itinerary and whenever possible, will be providing sessions for you personally and watching over your retreat experience to make sure everything goes perfectly.
---
Eve is the author of multiple books and products, including:
Based on the idea that it is our own response to a situation — rather than the situation itself — that creates a particular outcome, The EROS Equation is a unique approach to improving relationships. Instead of focusing on difficult partners or problems, author and relationship adviser Eve Eschner Hogan enables us to uncover new and creative responses in ourselves using the EROS equation. As she explains in the introduction, Hogan developed this problem-solving tool through years of work with clients, colleagues, and in her own marriage. She named it the EROS equation because it can be written as Event + Response = Outcome and Solutions (E + R = O and S). Invocative of the Greek god of love, this empowering outlook leads to deeper self-knowledge and more harmonious relationships. Writing in accessible, short chapters, Hogan uses real-life examples to look at typical relationship issues, from daily annoyances to extramarital affairs. She highlights common responses that don't work and applies the EROS equation to show us how our own wisdom, intuition, and creativity can reveal solutions. The EROS Equation makes clear that by changing an unhelpful, habitual response that blocks understanding, we can create a loving and solution-oriented outcome.
---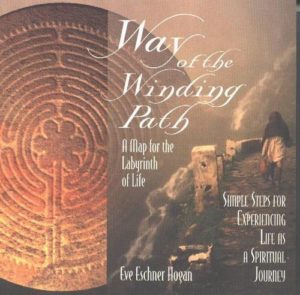 We spend lifetimes looking for our spiritual path as if it is something lost that we must find — we seek, rather than see that we are always on a spiritual journey. While we cannot step off the path, we can certainly get lost and disoriented. Way of the Winding Path offers simple, practical steps for experiencing life as a spiritual pilgrimage, and serves as a map guiding you to find your way with ease, grace, and clarity. Through exploration of the labyrinth as a metaphor for life, discover the essential skills of getting centered, listening to the voice of God, remembering who you are, taking action in divine alignment, celebrating transitions, and ritualizing everyday actions.
---
Keeping the love in your marriage requires skills that most of us have not been taught in school or at home. Many people think that the secret to marriage is FINDING the love of your life. Of greater importance is KEEPING the love in your life from that moment on.
This book's premise is that love, like self-esteem, doesn't go away; it just gets blocked by negative experiences, comments and beliefs that make the love difficult to feel. When we learn how to remove those obstacles, to let go of the past, to move beyond our egos to the heart of the matter and align our actions with our goals, we can reawaken the love and keep our marriage growing.
HOW TO LOVE YOUR MARRIAGE provides:
** Methods for solving problems and being your own best relationship advisor
** Empowering "How to" steps to take even if your partner is not willing to take them with you
** Simple "Love Tips" that you can use immediately
** The EROS formula for creating powerful, loving relationships
** Tools for managing your emotions — and those of your spouse
** An understanding of self-esteem's impact on a relationship and a relationship's impact on self-esteem
** Self-directed exercises and questions
---
This solutions-oriented guide offers problem solving and behavior changing strategies for people working on their most intimate relationships. The book provides readers with: enhanced knowledge of their own and their partners' beliefs, values, habits, desires, goals, likes, and dislikes; ideas for opening communication and deepening a relationship; skills for making healthy decisions about lifestyles and boundaries; an in-depth understanding of the role of self-esteem in relationships; increased ability to let go of the past and embrace the present; and the knowledge that it is important not only to choose the right partner, but also to be the right partner. What distinguishes Intellectual Foreplay from similar titles is that it includes guidelines on what to do with the answers it gives. This makes it useful in both creating and sustaining a relationship.
---
Entering the world of online dating can be daunting and even dangerous. Virtual Foreplay addresses the need for a guidebook to this still largely unexplored area, but the author takes an unusual approach. Using real-life examples, she helps readers find their self, soul, and passion in a way that makes presenting themselves online an honest and satisfying experience. Chapters like "Fifty Ways to Delete Your Lover" and "Don't Talk to Strangers–Except on the Internet!" keep the discussion lively as well as informative.
---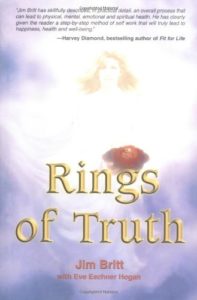 by Jim Britt and Eve Eschner Hogan
Blending ancient wisdom and practical, modern truisms, the author reveals the key to self-mastery and psychological well-being in a unique and compelling narrative.
---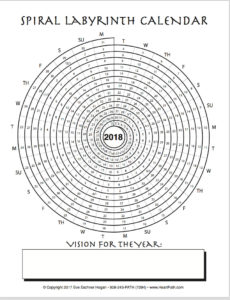 Creator of the The Spiral Calendar
Shift Your Perspective on Time with a Spiral Labyrinth Calendar of the Year! 2018
The Spiral Labyrinth Calendar offers a unique perspective of time. Typically, we tend to view time as rectangular units, and months and years as pages on a calendar we can tear off and begin again. On traditional calendars, there is no connection to the past of the future.The Spiral Labyrinth Calendar helps us recognize that these seemingly isolated units called months are, indeed, connected in time, one flowing seamlessly into the next. Spirals, and labyrinths, are symbolic of the spiritual journey or quest. In keeping with this tradition, the Spiral Labyrinth Calendar will lead you through your own spiritual pilgrimage of life, each moment a step on your pathway through time.
---
---
Eve is a wedding officiant offering simple, sacred ceremonies on Maui and throughout the United States. She specializes in spiritual celebrations that include Labyrinth Weddings, non-traditional ceremonies and civil unions, beach, boat and SCUBA weddings, and traditional ceremonies.
Eve is the Executive Director of the Divine Nature Alliance which runs The Sacred Garden on Maui— a healing sanctuary and nursery featuring two labyrinths, meditation gardens, water ponds, tropical plants and flowers…and a deep experience of beauty and peace. The Sacred Garden is free and open to the public daily 10-5. Donations are greatly appreciated.
Eve is also the co-founder and instructor of the Teen Feast Entrepreneurial Program with CEO Space. She is also the co-owner with her husband, Steve, of Makena Coast Dive Charters on Maui. She loves nature and adventure, is a scuba diver and enthusiastic photographer. She is passionate about creating beauty and honoring environments in which people can feel Spirit.

Whether you seek to improve your relationship with yourself in the form of self-esteem, gain clarity, experience freedom from limiting beliefs and negative self-talk, create a new relationship, restore an on-going relationship or heal from a past relationship, Eve's enthusiasm will inspire you and ignite your ability to succeed.
To inquire about having Eve speak at your event, to attend a retreat, to officiate at your wedding call:
(Please keep in mind that this is a Hawaii phone number and we are 2-3 hours earlier than the west coast and 5-6 hours earlier than the east!)