Heart Path Journeys
is YOUR concierge for personal growth, relationship and self-mastery retreats. Maui offers a diverse and beautiful backdrop for growth and wellness. While Hawaii is well-known as a world-class beach destination, many are unaware of the immense beauty that awaits just off the beaten path. Go into the heart and soul of Maui—so you may awaken your heart and soul. Call NOW to begin your journey: 808-243-PATH
Peace and serenity are waiting for YOU
Having the ability to create peace and clarity in your life is absolutely critical. We will aid you along the journey on YOUR Sacred Maui Retreat.
Experience sacred healing grounds
The beautiful grounds located in the jungle on Maui give you a chance to unwind and relax. The natural beauty, and array of exotic plant life are sure to spark in you a newfound or renewed respect for the gorgeous world that surrounds you.
Rejuvenate your life
Joining us for a Sacred Maui Retreat is hands down the best way to relax and recharge. Now is the time to recalibrate your life, and set intentions that are in alignment with who you really are.
Testimonials:
"One word – Amazing. Eve was incredible from start to finish.  Trip changed my life forever.  The entire experience was magical, comfortable, convenient, practical, educational, spiritual, exclusive and so much FUN. Learned so many valuable lessons from Eve and her team of amazing talent.  Completely allows you to customize your trip and needs.  Gorgeous location. But most importantly, everyone cares, everyone wants you to become stronger, smarter and more in tune with your body, mind and spirit.  I will love Eve and her soul forever.   Thank you for everything.  I'm a new man." -A.T. Florida. 2015
"We had a wonderful day retreat. Eve, Larissa, and Hoku were amazing. We both felt lighter after we left and received a lot of clarity. I'm excited to practice what I've learned. Thank you very much for the best experience we've had in Maui… And in life! :)"
-A and D, Los Angeles 2015
Last week my husband and I were working on our divorce, planning out how to separate our finances, and then we had a two-hour session with Eve. It was powerful and amazing. Now we are working on our marriage.
— J and A, Maui
For more testimonials click here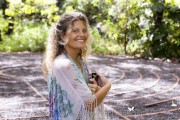 Eve Hogan
Eve is an author, speaker, and revered spiritual leader.
Her work bridges the gap between the head and heart so the two work in alignment instead of opposition. Her process works through stories and wisdom. By offering skills, tools and practical guidance, Eve will educate and enhance you.
Eve will work with you to create your perfect Sacred Maui Retreat itinerary.